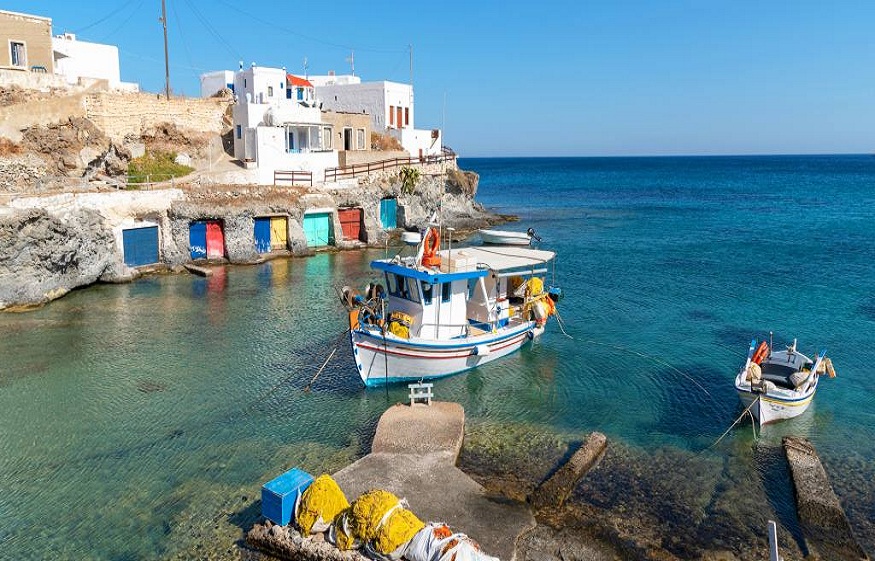 The 10 experiences to live in the Ionian Islands
You have already visited the Cyclades , the Sporades, the Saronic Islands from top to bottom … But had you thought of the Ionian Islands ? Located in the West of Greece , under the Albanian border , this mountainous and verdant archipelago extends over 2200 km2. From small fishing ports to monasteries, from idyllic beaches to ancient remains, discover this refined island universe full of surprises.
1. Stroll through the old town of Corfu
Its history dates back to the 8th century BC Shaped by the Corinthians, the Venetians, the English, this 592 km2 island offers a thousand treasures, starting with its old town, with its exceptional neo-classical architecture . A citadel, an old port, very "Neapolitan" alleys, Byzantine churches, a royal palace… To add local flavor, we walk at the end of the day under the arcades while enjoying an ice cream.
2. Cool off under a waterfall in Lefkada
In summer, in the Ionians, it can be very, very hot… up to 40°C! In addition to its magnificent beaches, its mountain villages and its canal pierced in antiquity, Lefkada offers a unique site: near Nydri, a succession of several waterfalls emerge into an emerald green lake . Tonic and exotic as you wish!
3. We do our first dive in Zante
It's the most visited Ionian island after Corfu, and for good reason: Zante is world famous for its photogenic 'Shipwreck Bay' where the wreckage of a smuggling boat lies. Supervised by one of the many diving schools on the island, you can swim in its clear waters with the loggerhead turtles, which come to lay their eggs on the beaches between May and September.
4. We walk in the footsteps of Odysseus on Ithaca
It is here that Penelope waited for her great traveler husband for 20 years. Reread a few pages of the Iliad and the Odyssey, let your imagination take you back to the 13th century BC, then take the old mule track that leads to the supposed ruins of Odysseus' palace at Stavros. Guaranteed emotion for history and literature enthusiasts… and children!
5. We treat ourselves to a boat trip to Atoko
From Ithaca or Lefkada, head for the spectacular One House Bay, on the island of Atoko. Deserted, this verdant little island with white cliffs has nothing to envy to its cousins ​​in the Pacific; its postcard-perfect turquoise waters and its deep green cloak of vegetation from which only the red roof of a church overlooking the beach emerges will leave you with unforgettable memories.
6. We forget everything in Erikoussa
Away from the tourist circuits, this 3.7 km2 island located in the very north of the archipelago is undoubtedly the quietest of the Ionians . A single village and two hotels on the island, forests of cypresses and olive trees, two superb beaches… Leave your laptop, tablet and stress at the bottom of your suitcase: here, you can finally unplug!